When it comes to building a new home or renovating an existing one, there are many hardware decisions to be made. Here is one that often leaves home owners scratching their heads; door knobs or levers? Which is the right choice for the doors in your home? Follow along to get a grip on the important factors that go into making this decision.


Choose Knobs for Period Style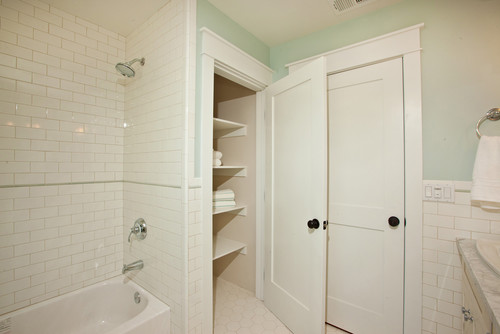 Traditional Bathroom by San Diego Design-Build Firms Stewart Thomas Design-Build


If you are building a period style home and want to capture every last detail, find door knobs that reflect the design and décor of that era. Whether you have a craftsman, colonial or Victorian home, knobs are available to provide that detail, in a finish to match your home's style - from dark bronze to antique brass, and chrome.

If you are adding-on or renovating your existing home, to stay consistent you may choose to pick knobs that match the existing style of hardware throughout your home. With a large number of doorknob and lever manufacturers to choose from, you are sure to find the style your project calls for.

In the picture above, round bronze door knobs add the right touch to this Craftsman Style bathroom renovation. Find dark bronze knobs in all shapes at CompleteHomeHardware.com.
Choose Levers for Contemporary, Modern or Euro Style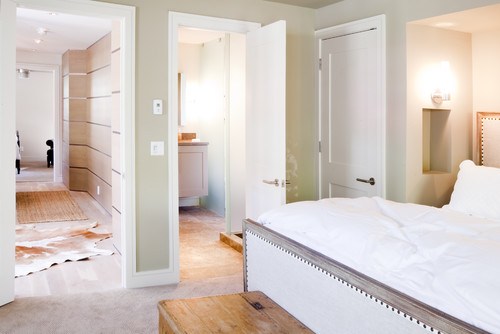 Contemporary Bedroom by Telluride Architects & Building Designers TruLinea Architects Inc.
If your tastes run toward modern or contemporary style, you may wish to go for levers. More popular than knobs in Europe, levers are known for ease of use and accessibility for all. They also impart a more modern sensibility to your home.

Available in finishes like chrome and brushed nickel, levers handles throughout your home are a great modern upgrade. This is a good look for homes built in a modern, contemporary, midcentury or transitional style.

Like the look of this sleek euro bedroom above? Choose the Satin Nickel Skyline Boulevard Door levers available here from Complete Home Hardware.
Choose Levers for Ease of Use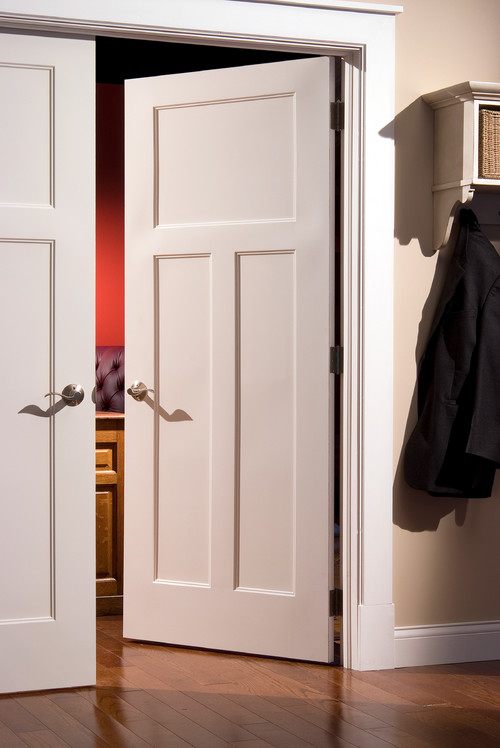 Craftsman Spaces via Houzz.com

The number one argument for the use of levers is ergonomics. A doorknob requires a tight grasp and the ability to twist in order to open the door. A levers only requires the user to push down or apply some pressure to open the door. A lever is easier to manipulate for an elderly resident with arthritis, or anyone with their hands full. This makes levers a good choice for busy parents as well as the elderly.

In fact, the city of Vancouver actually banned the use of knobs in new construction in favor of more user friendly and accessible-for-all levers!

If you are planning on staying in your home for the long term and want to age-in-place, seriously consider choosing lever style door handles. If a member of your family suffers from arthritis or other joint ailments, also consider levers for their ease of use.

Choosing a lever-style door handle does not mean you have to embrace contemporary styling. There are plenty of lever handle designs that work great in period style homes in finishes like oil rubbed bronze and brass. The key is to match the hardware finish to other finishes within your home for a consistent, timely look.
Shop Complete Home Hardware's selection of door knobs and levers to complement your home's style, at prices that will fit your budget.
Recent Posts
Two popular trends in home design may seem like polar opposites, but have a common design challenge. …

Love the look of a rustic, weathered door with heavy iron hardware? I do too! In honor of our new li …

Choosing Register Vent Covers for Your Home Toronto Interior Designers & Decorators AM Do …